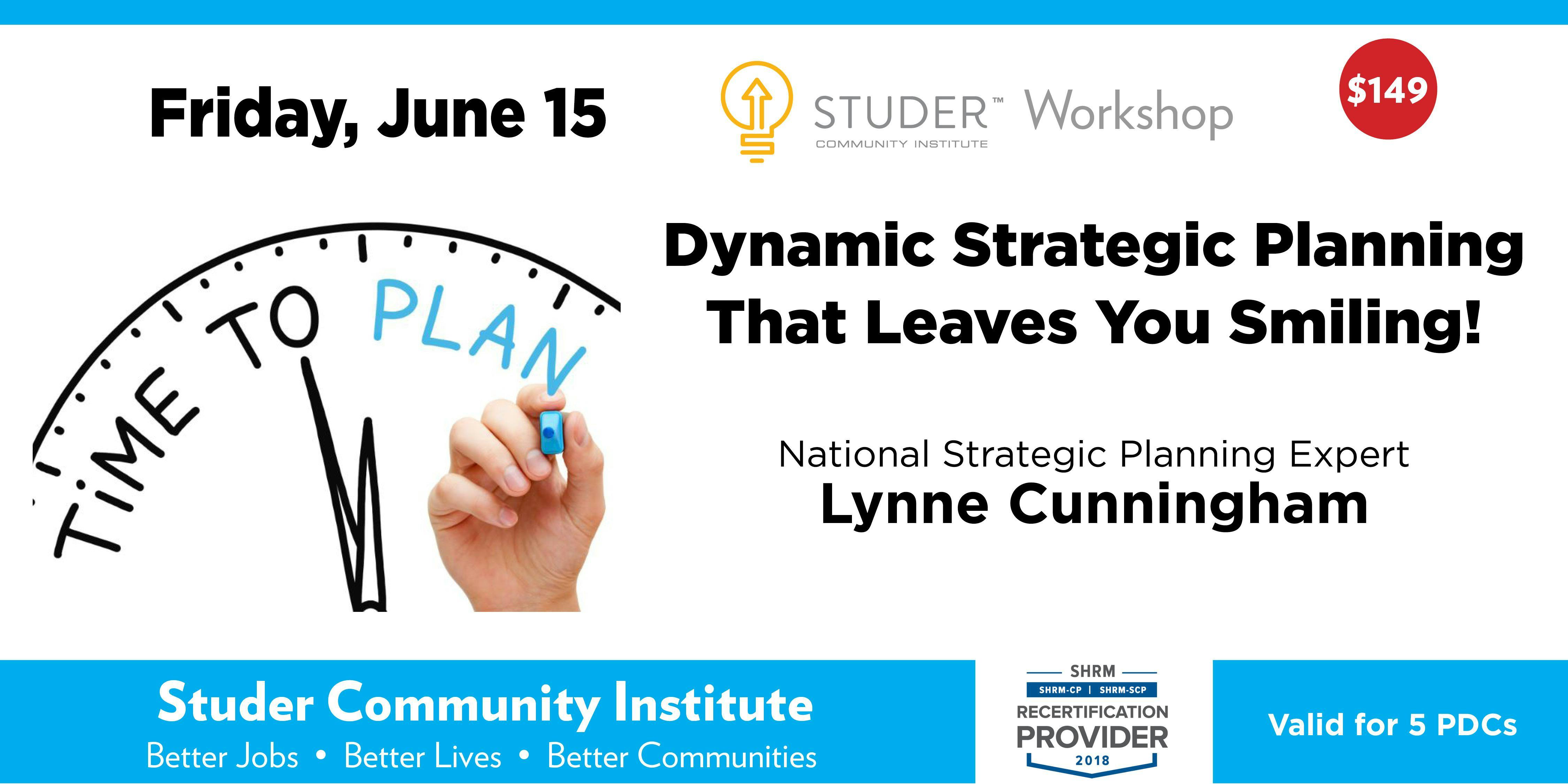 Strategic Planning You Can Feel Good About:
The traditional way of strategic planning is to have a retreat where executives go to an offsite location for one or two days, where they brainstorm all the things they want to do; then prioritize their "goals" and "objectives" into a lengthy to-do list for the next planning cycle.
In today's modern and unpredictable world of constant change, a yearly strategic planning approach that takes six months to develop and requires significant time and effort to pivot to new opportunities and challenges is no longer tenable.
Strategic planning needs to be a fluid process. Let us help you and your organization develop a plan that works for you!


Event Details:
This full-day workshop is led by national strategic planning expert, Lynne Cunningham. Lunch on-site is included as you spend the day covering a variety of topics surrounding strategic planning. This course is valid for 5 PDCs for the SHRM-CPSM or SHRM-SCPSM.
Leave Knowing How To:
Create and use a Strategic Plan that works to drive results in your organization

Differentiate between strategic planning, tactical planning and results reporting

Align Strategic Planning with the budgeting process, organizational responsibilities and strategic timelines


Who Should Attend:
Those who want to improve tomorrow's results by initiating strategic planning and those who wish to improve the effectiveness and efficiency of their existing planning process.
For HR Professionals:
We are thrilled to announce that this workshop is valid for 5 PDCs for the SHRM-CPSM or SHRM-SCPSM.


Earning your certification is the first step toward a rewarding career and a commitment to advancing the future of HR. We are pleased to provide you the credits you need with our local, affordable training.
Register now before all seats are gone!
Return to Events