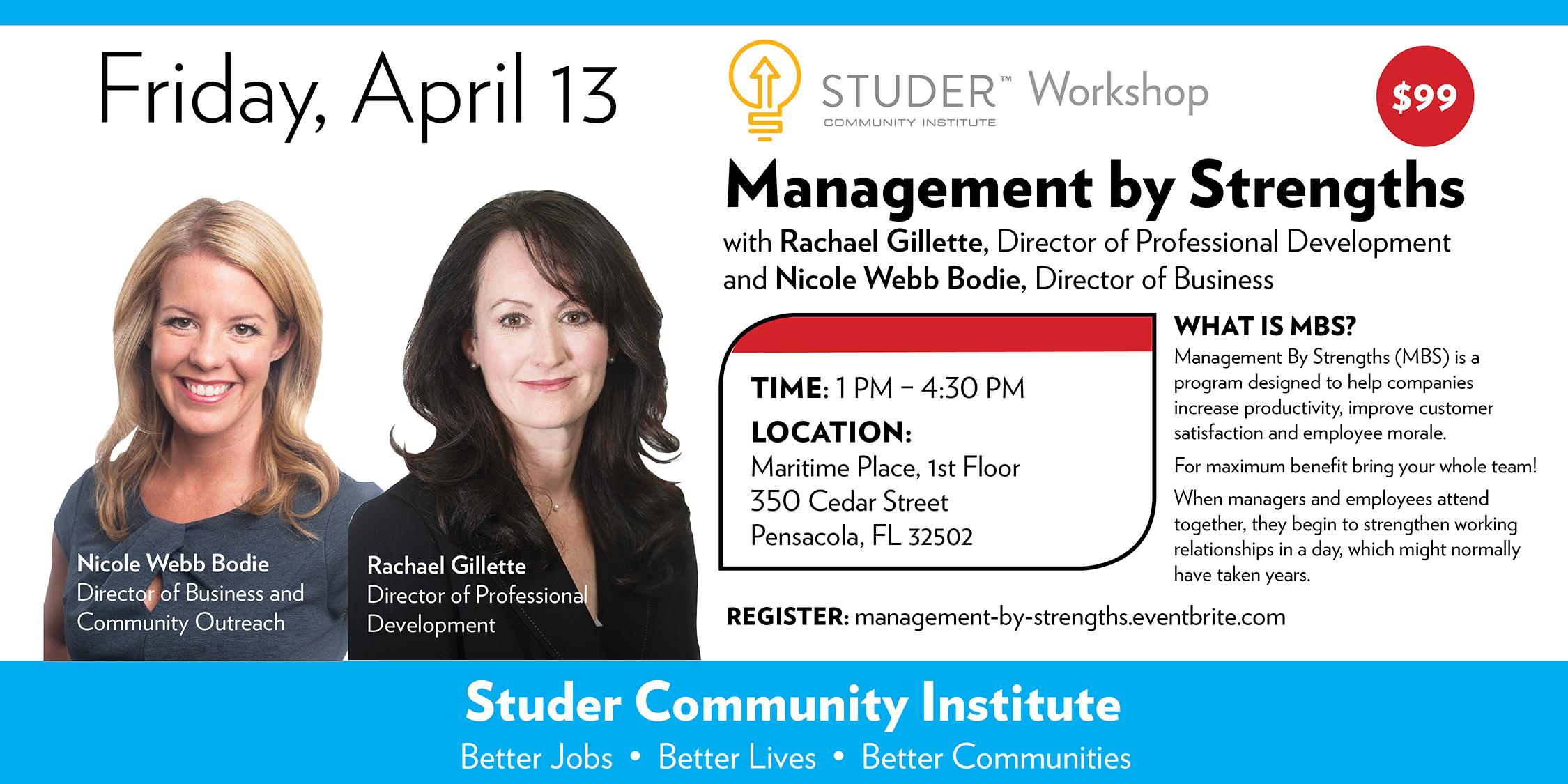 Management By Strengths (MBS) is a program designed to help companies increase productivity, improve customer satisfaction and employee morale. Each attendee takes an online survey prior to attending the workshop. The MBS Survey is a quick and non-threatening tool used to reflect a person's basic communication style ... their temperament.
The survey takes approximately 10 minutes to complete and the best thing - there are no right or wrong answers and there is no "best" MBS Profile Report. Everyone will learn their strengths!

For maximum benefit bring your whole team! The Management By Strengths program creates genuine enthusiasm, understanding and cooperation among people. When managers and employees attend together, they begin to strengthen working relationships in a day, which might normally have taken years. 
In addition to the training, attendees of this workshop will receive:
MBS Workbook
MBS Name Badge Sticker 
MBS Table Tent
             VALUE ADDED BONUS: After the workshop participants may also process family reports for free!
How Will MBS Help Me and My Company? 
In so many ways!
Team Building: 

Learn critical elements of team building.
Increase productivity.
Reduce costly turnover.
Teach employees and coworkers how to support each other.
Sales Techniques:

Learn to identify a customer's decision-making style.
Increase customer satisfaction.
Improve sales people's listening skills.
Learn methods of reaching agreement. 
Employee Relations: 

Learn how to be "proactive" rather than "reactive" 
Resolve interpersonal conflicts.
Identify managers' and employees' leadership strengths.
Help your people better understand themselves.
Learn basic communication styles. 
I have done programs like this before. Why is MBS Unique? 
Gaining a better understanding of one's own temperament is an important first step, but most "profiling programs" stop there. MBS takes interpersonal relationships to the next level by teaching students how to focus on people that they interact with daily. During the Management By Strengths seminar students study the actual strengths of themselves and their coworkers, rather than abstract concepts or psychological theories. 


What do others say about MBS?

Return to Events