EntreCon Pensacola 2018
Pensacola, FL

Nov 14 2018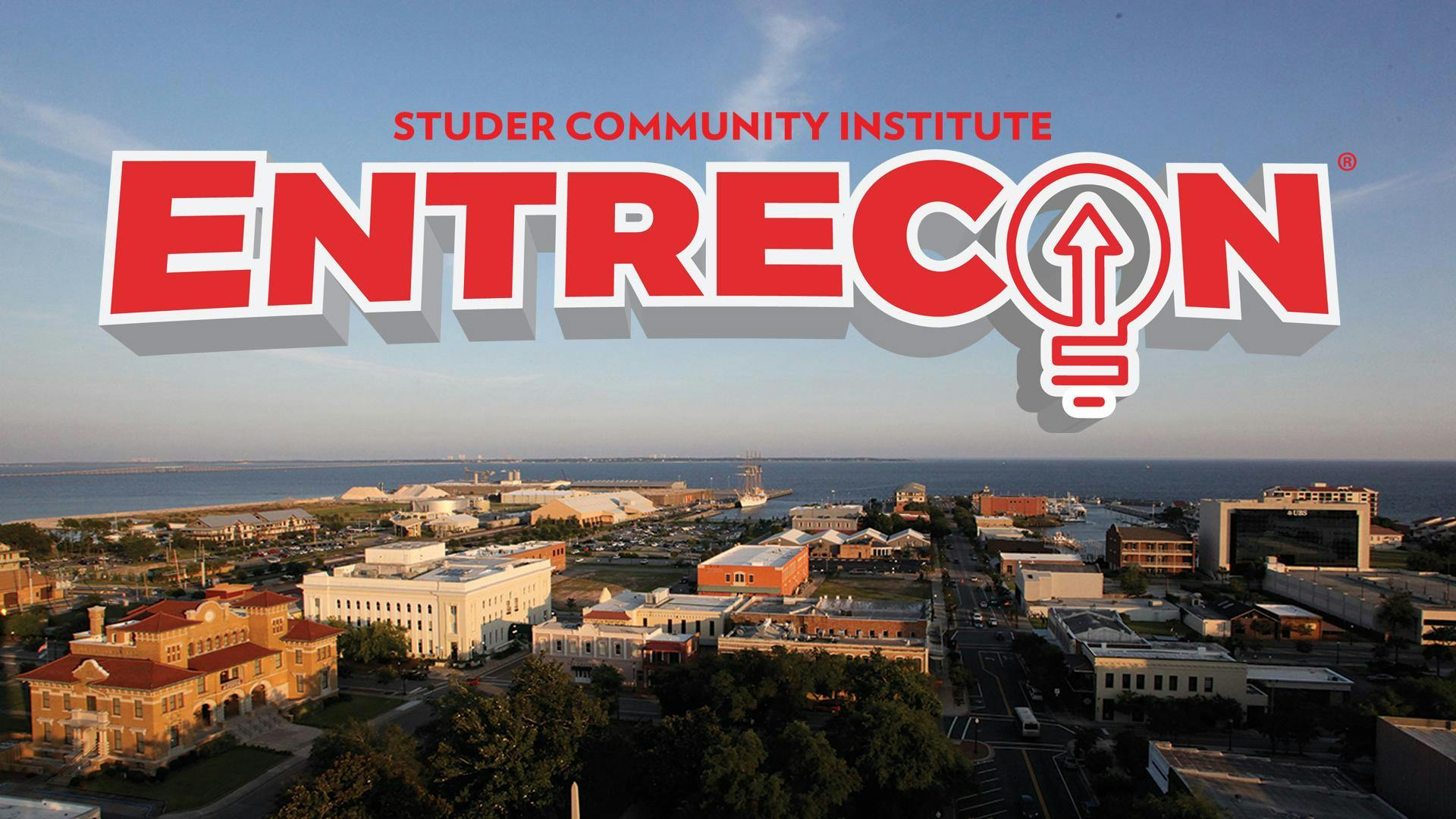 EntreCon: Better Jobs—Better Lives—Better Community

November 14 - 15, 2018
Having It All: How Linking Purpose and Profit Drives Your Business to the Next Level
Businesses must be profitable. That hasn't changed (and never will). But 21st-century companies have more than the right product at the right price. They are also purpose-driven, people-focused, and community-minded. This is no "feel good" trend. It's a strategy tied solidly to sustainable outcomes. Here's why:
You'll attract and engage the right talent. The best people don't just want a "job," and they don't want to have to separate doing well and doing good. Having engaged employees in a purpose-driven workplace is powerful. Productivity and innovation will soar!
You'll excite and inspire customers. When you're connected to a sense of purpose, you'll captivate superusers who love your brand and can't wait to tell others about it. These raving fans are the key to sustainable growth.
You'll appeal to vendors that share your values. When they partner with you, the synergy will explode, resulting in profitable new ideas, products, and services.
Creating and perpetuating this brand is only the beginning. A strong, sustainable commitment to your community must also be an integral part of your growth strategy. Vibrant businesses create vibrant communities…and vice versa.
EntreCon: Better Jobs—Better Lives—Better Community

Join us at EntreCon 2018, where you'll learn how to infuse purpose and a focus on community into your business. Hundreds of thought leaders, entrepreneurs, business owners, and professionals will come together to learn how to:
Lead positively and empower employees
Coach and mentor others
Grow a values-driven, agile, change-ready organization
Build a better community
This is a "must-attend" for entrepreneurs, business owners, leaders, and employees with a passion to succeed, lead, and influence positive change.Attendees will be inspired by fresh ideas, learn the latest tactics and strategies, and make meaningful connections to help support professional growth and the success of your organization.
EntreCon Pensacola will offer keynote addresses, breakout sessions, and panel discussions to ensure maximum opportunities to learn from experts and your peers.We encourage you to break away from the pressures and responsibilities associated with the business of doing business, learn how to improve your skills and results, and gain a fresh new perspective. You will not be disappointed.
Keynotes, along with local expert speakers, will be announced soon!
Who should attend?
Anyone with responsibilities for the success of an organization, whether in the private, public or nonprofit sector. There will be lessons for established business leaders, professional development for new managers and employees and help for start-ups.
Ticket policy - The name on the ticket/name badge MUST be the name of each individual attendee. Name badges MUST NOT be shared by attendees. We do not support partial ticket-swaps or ticket sharing of any kind; nor do we prorate ticket costs if you are only able to attend certain conference days; nor can you apply the cost of a ticket to future events.
All tickets are non-refundable.We reserve the right to charge administration costs.
Speaker cancellations do not affect the cancellation policy. Purchase of a ticket indicates that you have read and agree to comply with this cancellation policy.
This policy is subject to change; all registered attendees will be notified of any changes.
Contact Us
Rachael Gillette
[email protected]
850-748-5656
Nicole Webb Bodie
[email protected]
850-748-2027 
Return to Events list
Dynamic Strategic Planning That Leaves You Smiling!
1000 College Blvd, Pensacola, FL 32504

Jun 15 2018
Please join the Studer Institute for "Dynamic Strategic Planning That Leaves You Smiling!" led by national strategic planning expert, Lynne Cunningham. 
This full-day workshop will cover a variety of topics surrounding strategic planning. Lunch on-site is included in the cost of the workshop.
You will learn how to:
Create and use a Strategic Plan that works to drive results in your organization
Differentiate between strategic planning, tactical planning and results reporting
Align Strategic Planning with the budgeting process, organizational responsibilities and strategic timelines
The traditional way of strategic planning is to have a retreat where executives go to an offsite location for one or two days, where they brainstorm all the things they want to do; then prioritize their "goals" and "objectives" into a lengthy to-do list for the next planning cycle.
In today's modern and unpredictable world of constant change, a yearly strategic planning approach that takes six months to develop and requires significant time and effort to pivot to new opportunities and challenges is no longer tenable.
Strategic planning needs to be a fluid process. Let us help you and your organization develop a plan that works for you!
Who should attend? Those who want to improve tomorrow's results by initiating strategic planning and those who want to improve the effectiveness and efficiency of their existing planning process.
Valid for 5 Professional Development Credits (PDCs) for the SHRM-CPSM or SHRM-SCPSM.
Return to Events list